03 May, 2022
Preparing for NAPLAN 2023
It may seem strange to be thinking of NAPLAN 2023 when NAPLAN 2022 is still to happen, but with the testing time being moved forward to March next year, teachers will only have five or six months to prepare their year 2, 4, 6 and 8 students for the tests.
What skills do your students need for the NAPLAN numeracy assessments?
As you know the NAPLAN numeracy tests assess the proficiency strands of understanding, fluency, problem-solving and reasoning across the three content strands of mathematics: number and algebra; measurement and geometry; and statistics and probability.
Teachers also need to ensure that their students have mastered test-taking skills if the students are going to be able to demonstrate their mathematics skills and understanding. These skills include:
Knowledge of how to answer multiple-choice questions.

Familiarity with the vocabulary typically used in NAPLAN questions.

Appreciation that the same words can require different operations, depending on how the problem is posed.

Understanding that a problem may require two or more steps.

The ability to read and interpret instructions.

The ability to work across diagrams and texts to identify the problem.\And so much more.
And, of course, students need to be familiar with navigating the software and knowing how to listen to questions being read out, checking their answers and so on.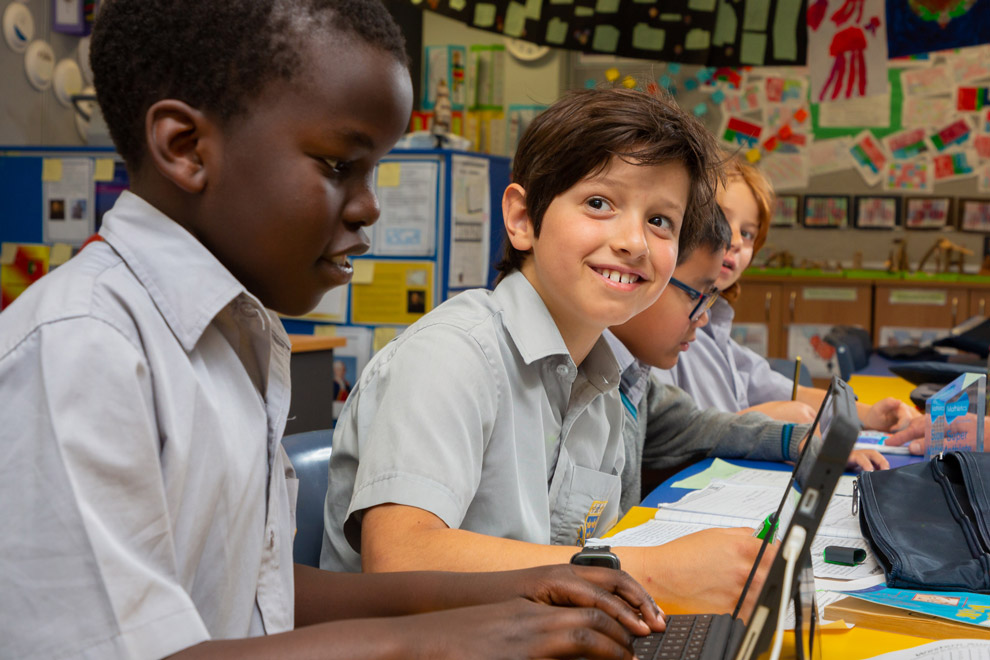 Is practicing for the tests enough?
The old maximum still holds: 'You don't fatten a pig by continually weighing it!'
Assessments that teachers can use to help familiarise their students with NAPLAN style questions, should also support these teachers with being more effective mathematics teachers. These assessments need to support teachers in understanding how mathematical skills and understandings develop. They need to help teachers identify each of their student's zone of development and how best to differentiate and aggregate instructions. Importantly, a worthwhile assessment will help teachers identify what their students need to learn next.
Ideally, an assessment should also save teachers time in providing feedback to students and reporting to parents, and school leaders time with collecting whole school data. Many educators now also want to see student growth in learning, not only within a school year but across school years.
Brightpath Mathematics assessments do that and more.
Brightpath Formative Mathematics Assessment
Brightpath assessments are available online to students ranging from year level 2 to 9 in individual and combined strands. The questions are clear and easy to read, and the contexts are realistic and engaging.
Figure 1 - Example of Mathematics Questions in Brightpath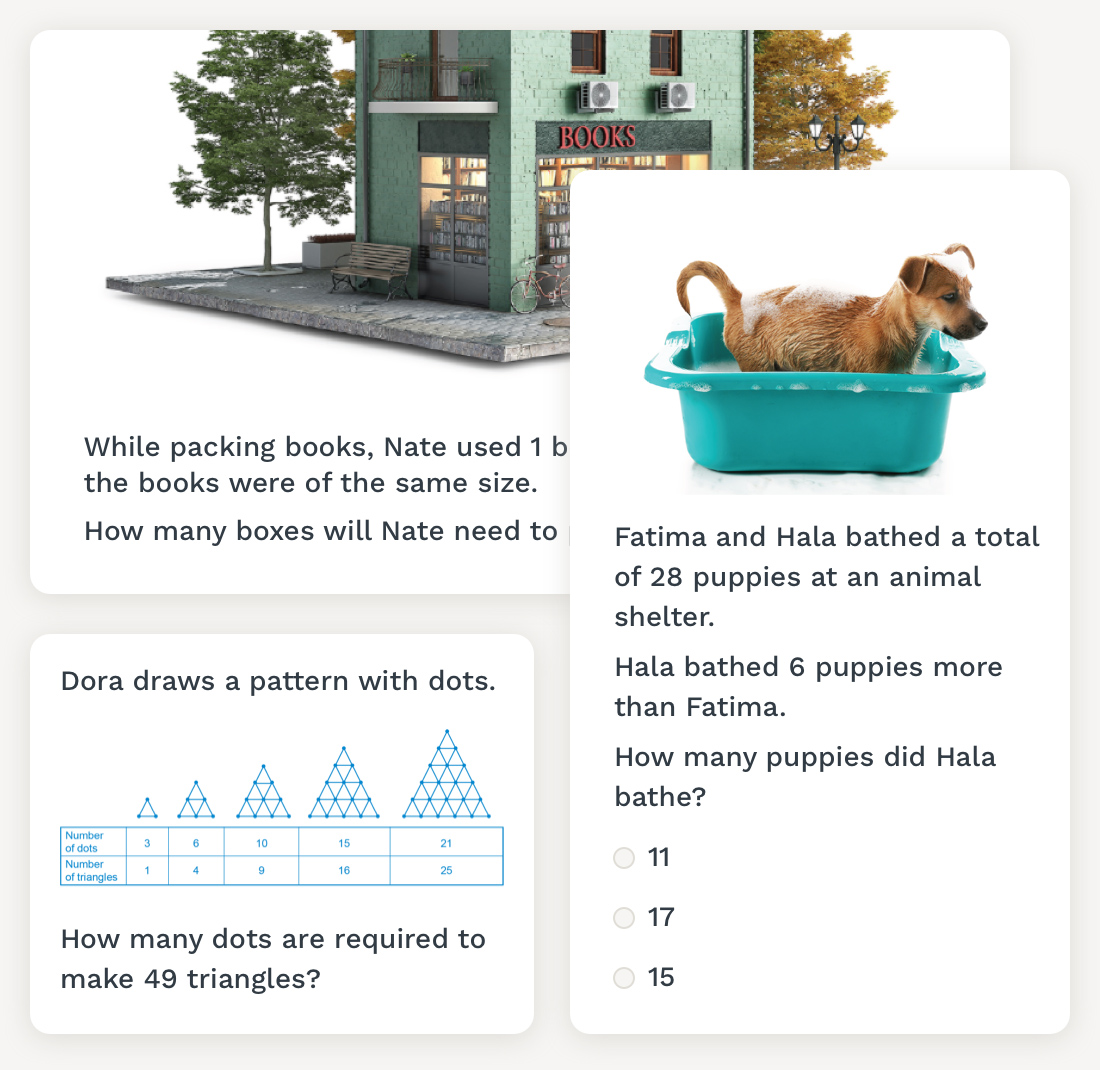 Students with limited reading capabilities are supported by an audio version of the questions. Students can access the tests using a desktop, laptop, or tablet device with any modern standard browser. The assessments have been designed so:
teachers and students receive immediate feedback for their learning, where they are and what they need to focus on next,

teachers can use assessments as the starting point for their lesson planning and teaching, and

teachers can be supported in evaluating the success of their teaching intervention
Class and Student Feedback
Teachers can view how their class performed on each question and the skills to focus on next on a class level as well as on an individual level. Students can view how they went on the tests and see they skills they need to focus on next.
Figure 2 - Example of a focus question in Brightpath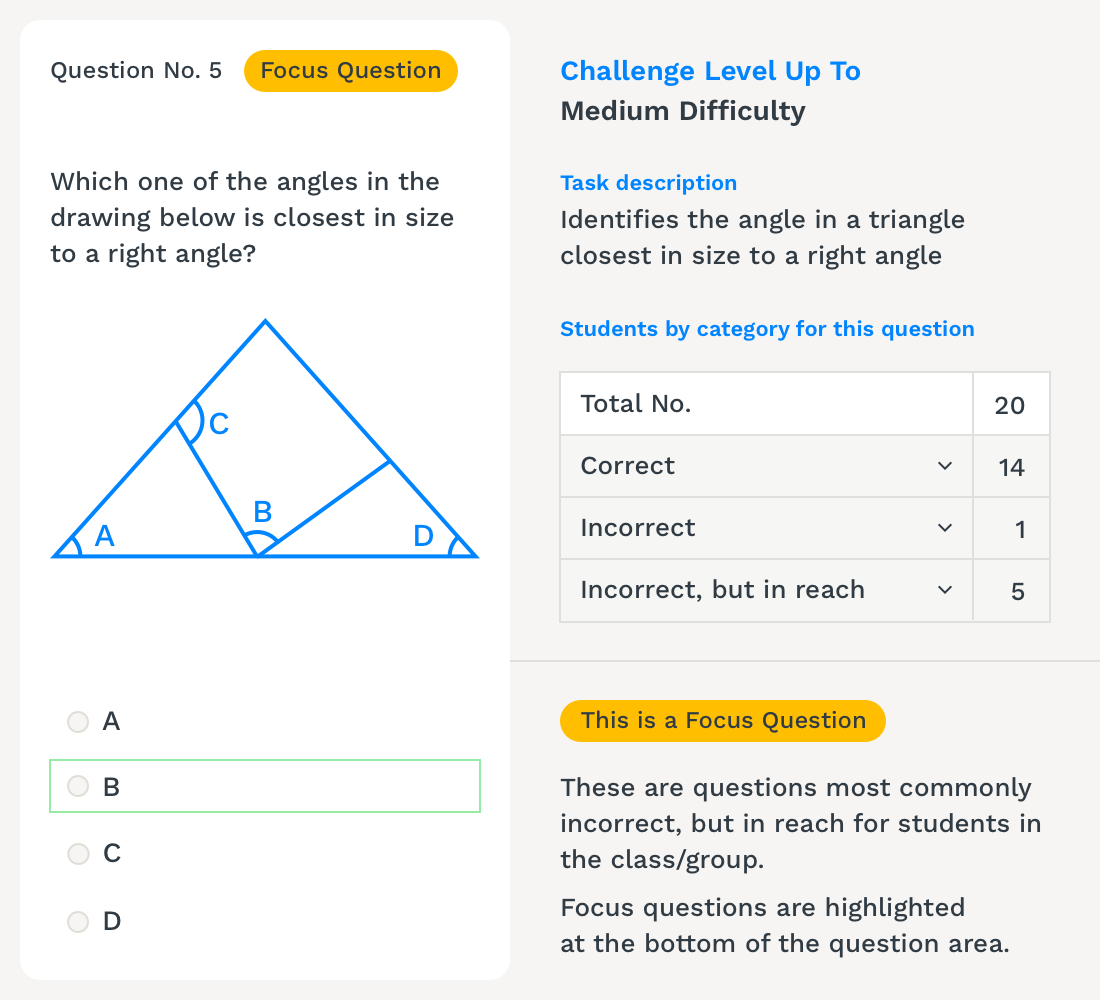 Find out more about the Maths assessments
We are regularly conducting free online information sessions on our Brightpath formative mathematics and writing assessments. You are welcome to join us. See available sessions.
← Back to article list